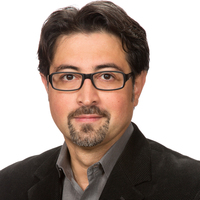 Ever since I heard of Shahab Ahmed's illness, a few weeks ago, to say I was terribly unsettled, would not be an exaggeration. A particular malignant form of leukemia overwhelmed his body. I was praying for a miracle, but the hour finally came.
وَلَنْ يُؤَخِّرَ اللَّهُ نَفْسًا إِذَا جَاءَ أَجَلُهَا ۚ
His passing is surreal and still painful to comprehend, but then some things are beyond our control. And with pious resignation, we say innaa lillaahi….
I did not know Shahab as well as many other people knew him. Many others knew him better. I met him through a friend, Shamil Jeppie who studied with him at Princeton. But we bumped into each other occasionally. I can recall clearly now, we once met briefly at a Middle East Studies Association meeting in San Francisco in the late 1990's, then in Marrakesh somewhere around 2006, thanks to an invitation from Kambiz GhaneaBassiri of Reed College, where Shahab and I walked endlessly in the old city, talking about ideas and he shared with me the larger project of his Satanic Verses book. If, I recall correctly, he had something to say about how the hadithi-fiqhi movement did the work of consensus building and in defining what Islam is, just as the various early councils decided the nature and meaning of Christianity. Again, when he visited the Raleigh-Durham-Chapel Hill Triangle area, when I was still teaching at Duke, we spent some time talking about scholarship. I encouraged him to get his book published, since from what he told me, he had more than enough material for several books. But Shahab, by the look on his face, that pensive smile mixed with irony, let me know by way of his body language that he was not ready to let his work go yet.
He sent me a kind email last year, February 1, 2014 after I posted something on the Islam list of the American Academy of Religion: "Dear Ebrahim,I hope this finds you well. Long time no see! I am very glad that this thread has provided you with a reason to post these articles of yours, in which I am much interested, and of which I was not aware. With all good wishes,
Shahab"
Now there is silence, but his words will resonate, as will his brilliant thoughts, in the forthcoming work, What is Islam? The Importance of Being Islamic, Princeton: Princeton University Press, 2015, and we also expect another book of his to be published, Before Islamic Orthodoxy: The Satanic Verses in the Thought of the Earliest Muslim Community (ca. 632-800), Cambridge: Harvard University Press (forthcoming, 2016). At the end of the day, Shahab did it his way. And, in hindsight, he did indeed have the last word.
In her message announcing his death, his wife Nora Lessersohn, wrote that "Shahab always loved this quote, which he has put at the start of the Conclusion of his forthcoming book."
"What account of my deeds, to anyone, could I give?
All the questions were wrong; what answers could I give?"
—Munīr Niyāzī (1928–2006)
Imprinted in my mind is his animated telling and enthusiasm during our walk in Marrakesh: "Ebrahim, I want to get back to literature. There is a lot there."
So I mourn him with a selection of literature.
From al-Mutanabbi:
إذا رَأيْتَ نُيُوبَ اللّيْثِ بارِزَةً فَلا تَظُنّنّ أنّ اللّيْثَ يَبْتَسِمُ
وَمُهْجَةٍ مُهْجَتي من هَمّ صَاحِبها أدرَكْتُهَا بجَوَادٍ ظَهْرُه حَرَمُ
رِجلاهُ في الرّكضِ رِجلٌ وَاليدانِ يَدٌ وَفِعْلُهُ مَا تُريدُ الكَفُّ وَالقَدَمُ
وَمُرْهَفٍ سرْتُ بينَ الجَحْفَلَينِ بهِ حتى ضرَبْتُ وَمَوْجُ المَوْتِ يَلْتَطِمُ
الخَيْلُ وَاللّيْلُ وَالبَيْداءُ تَعرِفُني وَالسّيفُ وَالرّمحُ والقرْطاسُ وَالقَلَمُ
"When the lion bares his teeth, do not / fancy that the lion shows to you a smile.
I have slain the man that sought my heart's blood many a time. / Riding a noble mare whose back none else may climb,
Whose hind and fore-legs seem in galloping as one / Nor hand nor foot requireth she to urge her on.
And oh the days when I have swung my fine-edged glaive / Amidst a sea of death where wave was dashed on wave!
The desert knows me well, the night, the mounted men, / The battle and the sword, the paper and the pen"
(A YouTube rendition of this poem might appeal to some:https://www.youtube.com/watch?v=1C68vc8plVI )
And from Rainer Maria Rilke, The Sonnets to Orpheus: First Series
"Is he one of us? No,
his wide nature grew out of both realms.
Whoever's known the roots of the willow
is better trained to bend to the willow's limbs…..
…But under the mildness of the eyelid
let him, the magician, let him mingle
their look with all that can be seen;
and let the spell of earthsmoke and of rue
be as true to him as the clearest chord.
Nothing can ruin the genuine sign
for him; whether from graves or rooms,
let him praise the clasp, the ring, the gourd."
Farewell, Shahab, farewell friend…
From your long-distance friend,
Ebrahim
Obituaries to Shahab Ahmed can be found here:
http://beenasarwar.com/…/rip-shahab-ahmed-prominent-islami…/
http://www.bloombergview.com/…/an-extraordinary-scholar-red…